Mining Biodiversity: Enriching Biodiversity Heritage with Text Mining and Social Media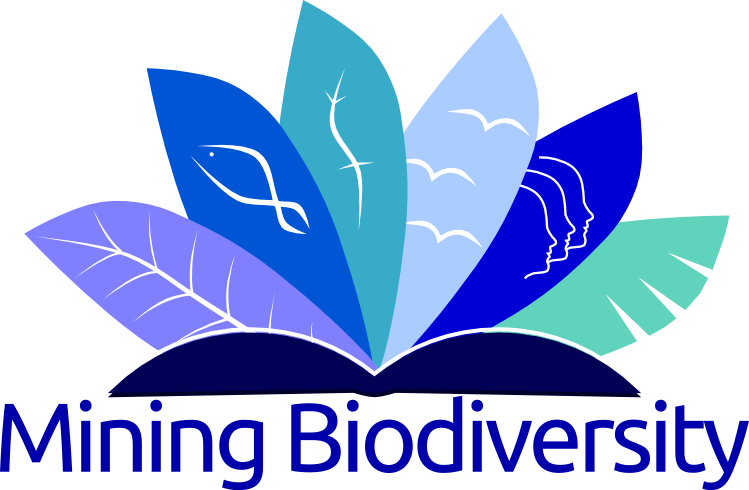 Mining Biodiversity is one of the projects that won in the third round of the transatlantic Digging Into Data Challenge, a competition aiming to promote the development of innovative computational techniques that can be applied to big data in the humanities and social sciences. Overall, 14 teams representing collaborations from Canada, US, UK and the Netherlands have been selected. Four of the selected projects come from the UK.
The project is an international collaboration between the National Centre for Text Mining (UK), Missouri Botanical Garden (US), Dalhousie University's Big Data Analytics Institute (Canada) and Ryerson University's Social Media Lab (Canada). NaCTeM was also a recipient of the 2011 Digging into Data call with the Integrated Social History Environment for Research (ISHER) project.
Summary
The Mining Biodiversity project aims to transform the Biodiversity Heritage Library (BHL) into a next-generation social digital library resource to facilitate the study and discussion (via social media integration) of legacy science documents on biodiversity by a worldwide community and to raise awareness of the changes in biodiversity over time in the general public. The project integrates novel text mining (TM) methods, visualisation, crowdsourcing and social media into the BHL. The resulting digital resource will provide fully interlinked and indexed access to the full content of BHL library documents, via semantically enhanced and interactive browsing and searching capabilities, allowing users to locate precisely the information of interest to them in an easy and efficient manner.
Project goals
By promoting the development of capabilities that will foster collaboration amongst researchers from the fields of History of Science, Environmental History, Environmental Studies, Library and Information Science and Social Media, the proposed project will make a significant impact on the above disciplines by:
enriching a large-scale library, i.e., the BHL, via innovative application of text mining techniques to produce semantic metadata and a term inventory,
providing improved access to biodiversity-related digital artifacts via an enhanced search engine and visualisation of results, and
stimulating increased collaboration, interaction and sharing of information amongst BHL users via the social media environment.
Details
The project has five major components:
Automatic correction of errors in text extracted automatically from legacy biodiversity literature via optical character recognition (OCR).
Development of a crowdsourcing facility that will encourage users to annotate legacy texts with semantic metadata.
Adaptation of text mining technologies to extract metadata (i.e., terminology, entities and significant events) automatically and to track terminology evolution over time. This will facilitate semantic search, allowing users to explore search results according to multiple information dimensions or facets.
Interactive visualisation techniques will be used to help users to make sense of search results through the integration of next generation browsing capabilities, assisted by a semantic similarity network of important terms and entities.
Design of a social media layer, serving as an environment for diverse users to interact and collaborate on science, public education, awareness and outreach.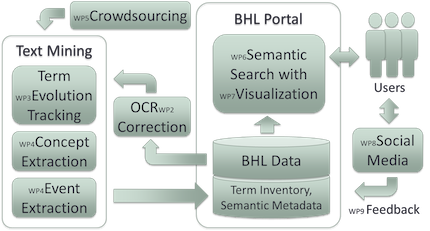 Architecture
Project information
The project starts in March 2014 and is funded by AHRC, ESRC, Innovation.ca, Institute of Museum and Library Services, JISC and NEH until September 2015.
News
5th April 2016
Prof. Sophia Ananiadou will give a seminar entitled Text Mining tools and infrastructure for biomedical applications - cancer biology, history of medicine, monitoring biodiversity at the CERTH Conference Centre Vergina, Greece.
Project Partners
Prof. Sophia Ananiadou, University of Manchester
William Ulate, Missouri Botanical Garden
Dr. Anatoliy Gruzd, Ryerson University
Project Team
University of Manchester: Prof. Sophia Ananiadou, Dr. Eva Maria Navarro Lopez, Dr. R. Tucker Gilman, Dr. Riza Batista-Navarro, Dr. Georgios Kontonatsios, Dr. Axel Soto
Missouri Botanical Garden: William Ulate, Trish Rose-Sandler
Dalhousie University: Prof. Evangelos Milios, Prof. Stan Matwin, Dr. Vlado Keselj, Dr. Stephen Brooks
Ryerson University: Dr. Anatoliy Gruzd
Futher information